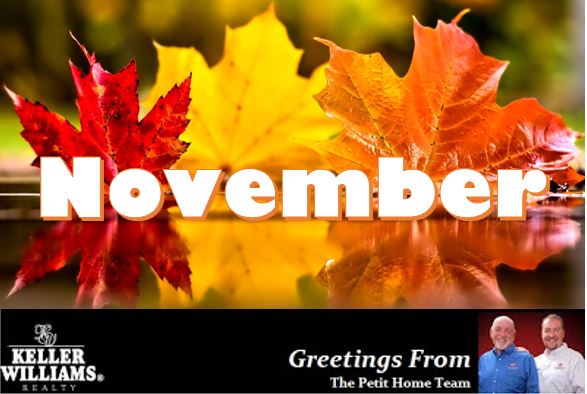 1. Petit Home Team News
Trea Fullen, a listing agent on the Petit Home Team, organized an event this Halloween at the St. Jude Children's hospital in downtown Charlotte to help give back to our community. This agent, the Petit Home Team, and many others came together to donate to St. Jude after the closing of 20300 Bethel Church Rd earlier this month. On Halloween, Trea, his girlfriend Sarah, Cole Schwietering from movement mortgage, and 3 professional baseball players Anthony Dimino, Sean Ryan, and Ryder Ryan spent the morning handing out candy and autographed baseballs for the children at St. Jude and Hemby Children's hospital. It was a great day full of fun and smiles for all of those involved, and a great opportunity to get involved within the community. We hope to be able to continue to donate and organize many more events like this one in the future.
2. Our Market Today
The Federal Reserve had their most recent meeting on Wednesday November 1st where they decided to leave the federal funds rate unchanged at a 1% to 1.25% target range. Policy makers have indicated that despite the disruptions from hurricanes this year, the labor market is continuing to strengthen. Household spending has continued to gradually expand, and inflation measures have declined over the past 12 months and are under the 2% target the Fed has. Currently it appears that the December meeting and planned rate hike will remain on the table.
3. Comfort Food
Here is a fall recipe for a delicious Bacon Cheeseburger Shepard's Pie.
Ingredients
2 lb lean (at least 80%) ground beef
1 large onion, chopped (1 cup)
2 cloves garlic, finely chopped
2 cans (10.75 oz each) condensed Cheddar cheese soup
1 cup ketchup
¼ cup mustard
1 teaspoon Worcestershire sauce
1 box (4.7 oz) Betty Crocker™ homestyle creamy butter mashed potatoes
Water, milk and butter called for on mashed potato box for 6 servings
¼ cup shredded Cheddar cheese (1 oz)
Crumbled cooked bacon, if desired
Sliced green onions, if desired
Steps
1. In 12-inch skillet, cook beef, onion and garlic over medium-high heat 5 to 7 minutes, stirring frequently, until beef is thoroughly cooked; drain.
2. Stir in soup, ketchup, mustard and Worcestershire sauce. Heat to boiling, stirring occasionally; reduce heat. Cover; simmer about 10 minutes, stirring occasionally.
3. Meanwhile, make potatoes as directed on box for 6 servings, using water, milk and butter. Spoon beef mixture into serving dish; spoon and gently spread mashed potatoes over beef mixture. Sprinkle with cheese. Cover; let stand about 5 minutes or until cheese is melted. Sprinkle with bacon and green onions.
4. Just Sold Properties
7612 Maple Bluff Dr, Concord NC
This property was listed with the Petit Home Team at $350,000, went under contract in 8 days, and sold for $348,000 an incredible 99.5% of the asking price!

20300 Bethel Church Rd, Cornelius NC
This property was listed with the Petit Home Team at $205,000 and went under contract in just 3 days. It recently closed at a sales price of $201,000 an amazing 98% of the asking price.
PetitHomeTeam.com
704-728-6944